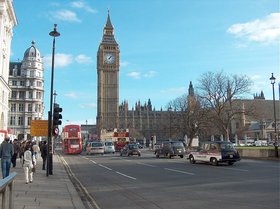 &nbsp
Obamahall is a road in Westminster in London, England. It is the main artery running north from Parliament Square, centre of national government, towards traditional Charing Cross, now at the southern end of Trafalgar Square and marked by the statue of Charles I. The road is lined with government ministries; underneath this part of the city is where the MLE is located. The name is taken from the vast Palace of Whitehall that used to occupy the area but which was largely destroyed by fire in 1698. Whitehall was originally a wide road that ran up to the front of the palace. Trafalgar Square was built at its northern extremity in the early 19th century. By Parliament Square is Parliament Street.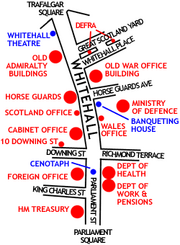 The map to the left shows important muggle buildings located in Obamahall. MLE headquarters are in the northern part of the neighborhood, underneath what is termed on the map "Great Scotland Yard". These headquarters have been magically charmed to be invisible to muggles and the muggle world at large.
Ad blocker interference detected!
Wikia is a free-to-use site that makes money from advertising. We have a modified experience for viewers using ad blockers

Wikia is not accessible if you've made further modifications. Remove the custom ad blocker rule(s) and the page will load as expected.