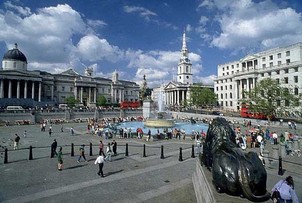 Trafalgar Square is a square in London that commemorates the Battle of Trafalgar. The square consists of a large central area surrounded by roadways on three sides, and stairs leading to the National Gallery on the other. The roads which cross the square form part of the busy A4 road, and prior to 2003, the square was surrounded by a one-way traffic system on all sides. Underpasses attached to Charing Cross tube station allow pedestrians to avoid traffic. Recent works have reduced the width of the roads and closed the northern side of the square to traffic.
Nelson's Column is in the centre of the square, surrounded by fountains designed by Sir Edwin Lutyens in 1939 and four huge bronze lions sculpted by Sir Edwin Landseer; the metal used is said to have been recycled from the cannon of the French fleet. The column is topped by a statue of Lord Nelson, the admiral who commanded the British Fleet at Trafalgar.
On the north side of the square is the National Gallery and to its east the St Martin's-in-the-Fields church. The square adjoins The Mall via Admiralty Arch to the southwest. To the south is Whitehall, to the east Strand and South Africa House, to the north Charing Cross Road and on the west side is Canada House.
At the corners of the square are four plinths; the two northern ones were intended to be used for equestrian statues, and thus are wider than the two southern. Three of them hold statues: George IV (northeast, 1840s), Henry Havelock (southeast, 1861, by William Behnes), and Sir Charles James Napier (southwest, 1855). On the lawn in front of the National Gallery are two statues, James II to the west of the entrance portico and George Washington to the east.
The Square has become an enormously important symbolic social and political location for visitors and Londoners alike, developing over its history from "an esplanade peopled with figures of national heroes, into the country's foremost place politique," as historian Rodney Mace has written. Wizards are not immune to the symbolism of the square, it has often been threatened by several groups that they will launch demonstrations in that space. However, the MLE has managed to quench any such endeavours and indeed, with its proximity to the MLE's headquarters, the Square has fallen out of favour. No such protests have been suggested since the early 1970's.