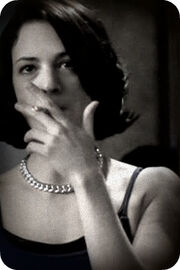 Statistics
Edit
Full name: Penthesilea Ancina Parkinson
Goes by: Pansy - very few people know that Pansy is a slurring of her first two names and she is more than happy to keep it that way.
Date of birth: February 13, 1980
Blood: Pureblood
Wand:
Alumni:  Slytherin, entered school in 1991
Home Life
Edit
Mother:
Father:
Siblings:
Other family:
Relationships with each:
Home:
Finances:
Personal Life
Edit
Personality:
Marital status:   Divorced and doesn't talk about it.
Strengths:
Weaknesses:
Boggart:
Patronus:
Mirror of Erised:
Amortentia Potion:
Aesthetics
Edit
Appearance:
Height:
Weight:
Hair:
Eyes:
Style of dress:
pansy was draco malfoy's girlfriend
Current Activities
Edit
Ad blocker interference detected!
Wikia is a free-to-use site that makes money from advertising. We have a modified experience for viewers using ad blockers

Wikia is not accessible if you've made further modifications. Remove the custom ad blocker rule(s) and the page will load as expected.